All About ST-Gel™
---
ST-Gel is a collective term for gel materials made using Sekisui Kasei's proprietary gel manufacturing technology. It is noted for its high-performance and highly safe materials, which hold solvents such as water and moisturizers, electrolytes, additives, etc., in a three-dimensional polymer matrix. ST-Gel features several customizable characteristics that can be used for products in various fields and applications.
Customizing ST-Gel
ST-Gel's physical properties can be altered to meet customized requirements for adhesiveness and conductivity, and it can be processed along with other materials such as cloth and polyurethane foam.
Safety
ST-Gel is widely used in numerous materials such as repeated-use adhesive pads for TENS and EMS, electrodes for wearable devices attached to the skin, and electrodes for Holter ECGs, etc.
The amount of residual monomers, which cause irritation or rash, is reduced by controlling the reactivity when manufacturing ST-Gel. When the surface of the tape adhered to the skin is peeled off and treated with iodine, it has been observed that ST-Gel has less keratin adhered compared with standard medical tape and is noticeably more gentle on the skin.
Many general adhesive tapes can cause rashes, and the occurrence of C-stage and D-stage often can't be avoided. ST-Gel, however, has been determined to impose less chance of irritating human skin.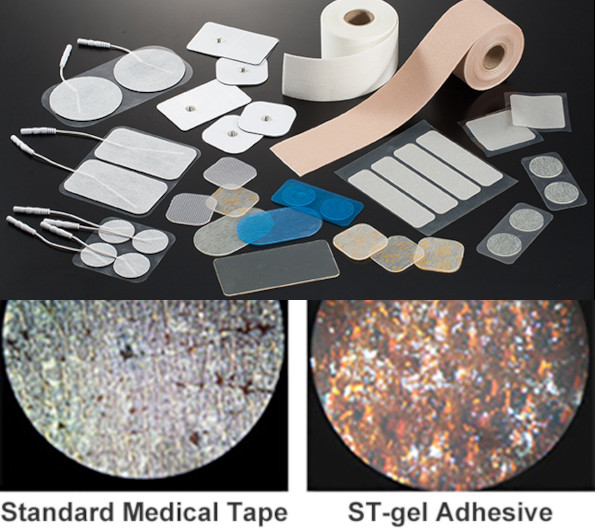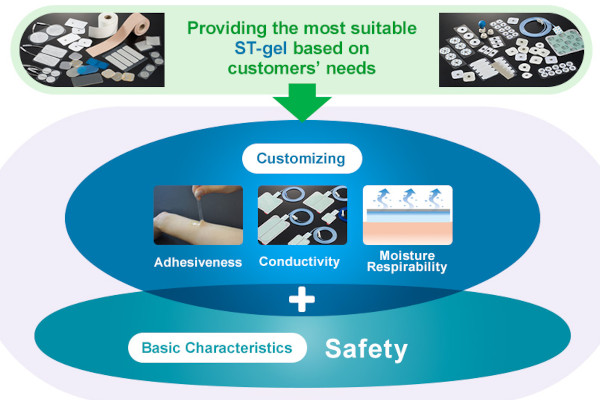 Adhesiveness
ST-Gel's adhesiveness can be adjusted from a high level of adhesiveness similar to bioadhesive tape to low adhesiveness.
Conductivity
Our product can be made conductive by adding electrolytes to the gel. The resulting product conductivity can range from low impedance for biosensors such as electrocardiograms to high impedance for electrical stimulation devices such as TENS and EMS.
Moisture Respirability
A notable property of ST-Gel is the ability to release moisture in dry environments and absorb moisture in humid surroundings. This allows for reliable use in not drying or swelling up due to environmental factors.
Application Examples
ST-Gel can be altered to fit any customer need. It is widely used for various applications, such as the OEM of cosmetic gel masks and different processed electrode products.
A more comprehensive list of examples includes:
Materials Field
Bioelectrode Materials
Bioadhesive Materials
Wound Dressing Materials
Industrial Electrode Materials
Industrial Adhesives
Medical Field
Electrocardiogram (ECG) Electrodes
Electroencephalogram (EEG) Electrodes
Return Electrodes for Electrosurgical Instruments
Biosensors
Electrodes for Electrotherapy Equipment
Biosensors
Electrodes for Transcutaneous Electrical Nerve Stimulation (TENS)
Adhesive Pads for Electrical Muscle Stimulation (EMS)
Adhesive Pads for Slimming Equipment
Cosmetic Gel Masks
Cooling Sheets

Quality Control
Because consistency and quality are essential, we have acquired ISO 9001, ISO 13485, and 14001 certifications.
We focus on consistent manufacturing management from procurement of the ST-Gel raw materials to manufacturing, inspection, and shipping in order to achieve the highest quality control possible.
Find Out More
You can find out more about how our ST-Gel can serve your products and needs by contacting us at any time for more information.